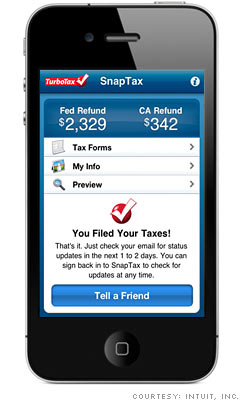 App: TurboTax SnapTax
You can already pay and bank by phone. Now you can file your taxes with your phone, too.
Just take a photo of your W-2 with your smartphone. With this app, your data is uploaded into your phone and transferred right onto your return. Review the form, enter some basic information about yourself and you're ready to e-file.
The app is designed for simple returns, so it's great if you're single with income of less than $80,000 or married with a combined income of less than $100,000.
It won't work if you have a more complicated return -- meaning your income exceeds these amounts, you have dependents or you own real estate, for example.
The app, which is available for iPhones and Androids, was introduced nationwide last month and files both state and federal tax returns. While you can test out the process for free, you have to pay $14.99 to file.
NEXT: Store receipts on your phone
Last updated February 10 2011: 4:45 PM ET