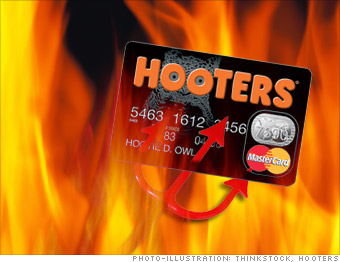 If you're a regular Hooters customer, this card gives you five points for every dollar you spend at the restaurant. But that doesn't make up for the fact that the APR on the card can hit 25.45%.
The card, issued by Merrick Bank, also comes with an annual fee of up to $48 for the first year, plus $4 per month after that. Late payment fees, returned payment fees and over-the-limit fees go up to $35.
That makes this card among the worst in terms of restaurant-branded credit cards, according to John Ulzheimer, personal finance expert at SmartCredit.com.
"Even if you have excellent credit, it looks like you'll get a rate of more than 16%," he said. "You can definitely find a better card than that with excellent credit -- and if you're credit isn't so good, you're certainly going to get hit with that 25.4%."
A spokeswoman for the card did not respond to repeated requests for comment.