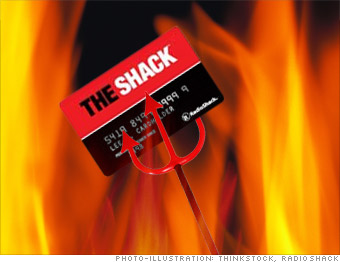 With a sky high rate of 28.99%, the Shack Card has one of the highest interest rate among store-branded credit cards.
In fact, it ranks No. 1 on New York Congressman Anthony Weiner's list of store cards consumers should avoid.
The card lures customers in with an offer of 0% interest if purchases exceed $350 and payments are made in full by January 2012, or if purchases exceed $150 and payments are made in full within six months.
"This could maybe be appealing if you use the card correctly, but if you don't have everything paid off by those dates, then you're going to pay that interest and you're going to get retroactive interest charges, so getting one of these cards can be awful," said Bill Hardekopf, credit card expert and CEO of Lowcards.com. "If you don't play the game right, you're going to lose big time."
But you do get a 15% discount on batteries -- yes, just batteries -- if you use the card.
"RadioShack customers who apply for the Shack Card tend to be loyal customers who find value in the card benefits as well as customers who are making a large purchase at RadioShack who choose to apply for the card because they see value in utilizing a No Interest program to pay off their purchase over an extended period of time," said a spokeswoman for Citi, the issuer of the card.