Looking for fresh ideas on how to make the most of your money? Our annual guide to the best and timeliest investments, deals, products and strategies will help you make smarter financial decisions. Guaranteed.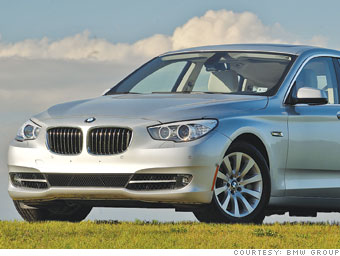 Luxury winner: BMW 535 Gran Turismo
Gasoline prices are on the rise -- they've already passed $4 a gallon in some places -- but that doesn't mean your only option is a hybrid. Fuel technology has improved significantly for both hybrid and nonhybrid models. These vehicles are terrific overall values: They provide outstanding performance plus fuel economy that's better than average for their category.
CHEVY CRUZE ECO (compact)
Base price: $18,000
Fuel economy: 28 city/42 highway
Why it's great: It's not often the words "roomy" and "fun" go with "fuel-efficient," but here they do, all in one turbo-charged package.
HYUNDAI SONATA (midsize)
Base price: $19,000 to $27,000
Fuel economy: 24/35
Why it's great: You could almost swear you were driving a Lexus, except it's cheaper and better on gas. There's a hybrid version too.
FORD MUSTANG V6 (sporty)
Base price: $22,000 to $31,000
Fuel economy: 19/29
Why it's great: Once, V-6 Mustangs were all show and not so much go. Now you get real performance along with respectable fuel economy.
TOYOTA PRIUS (hybrid)
Base price: $22,000 to $28,000
Fuel economy: 51/48
Why it's great: It gets more than twice the miles per gallon of the average car, and wins high marks for practicality too.
BMW 535 GRAN TURISMO (luxury)
Base price: $57,000
Fuel economy: 20/30
Why it's great: Packed with fuel-saving technology, this hatchback version of the classic 5-Series sedan is practical as well as a joy to drive.
NEXT: Moves 4-9: Best rewards cards
Last updated April 28 2011: 11:32 AM ET