Looking for fresh ideas on how to make the most of your money? Our annual guide to the best and timeliest investments, deals, products and strategies will help you make smarter financial decisions. Guaranteed.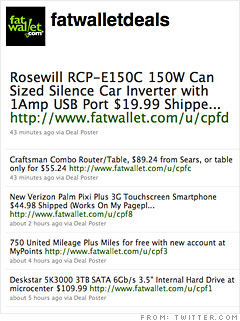 You already know about the great deals on Groupon. But other bargains abound on social-media sites; you just have to know where to look.
Fan retailers' Facebook pages: Many companies give coupons or complimentary products to encourage people to "like" their pages. Discounts posted to each retailer's page will show up in your news feed. Recent deal: 20% off a purchase at Famous Footwear.
Use location-based apps: When you check in to Foursquare, Loopt, or Facebook Places, you'll often be able to find freebies or specials right in your own area. Recent deal: 20% off any purchase at Radio Shack (for first-time Foursquare check-ins).
Follow Twitter feeds: User-contributed deal-sharing site FatWallet.com tweets its best bargains (@fatwalletdeals) so you don't have to comb through all the online forums. And retailers and airlines often tweet short-term sales.
Recent deal: a pair of prescription glasses from CoastalContacts.com for just $12, including shipping (via @fatwalletdeals).
NEXT: Move 57: Vet online merchants
Last updated April 28 2011: 11:32 AM ET