Looking for fresh ideas on how to make the most of your money? Our annual guide to the best and timeliest investments, deals, products and strategies will help you make smarter financial decisions. Guaranteed.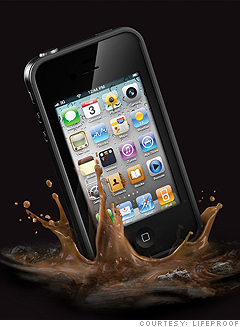 All cases are not created equal. These new ones add serious functionality.
Best for water sports lovers:
LifeProof Case
Price: $70
Want to listen to music while swimming or take pictures while snorkeling? No problem: This is like a wetsuit for your phone.
Best for shutterbugs:
XShot Case
Price: $30
Snap a mini tripod (included) into this case's built-in sockets and never take an unsteady photo again.
Best for battery hogs:
Mophie's JuicePack
Price: $40 to $100
A rechargeable backup battery is built in, so you can talk twice as long when you're traveling.
NEXT: Move 71: Find a good tenant
Last updated April 28 2011: 11:32 AM ET