Looking for fresh ideas on how to make the most of your money? Our annual guide to the best and timeliest investments, deals, products and strategies will help you make smarter financial decisions. Guaranteed.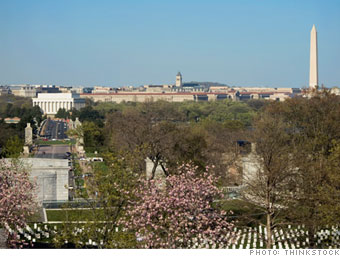 Washington, D.C., is the country's best job market.
Employers are slowly adding jobs as the economy limps back, but is it work you'd want? Job seekers might check out these eight metro areas, with both low unemployment (below 8%, vs. 8.8% nationally) and median pay above the $74,000 national average for mid-career college grads.
Best: Washington, D.C.
Unemployment: 6.1%
Salary: $91,000
Baltimore: 7.9%...$80,000
Boston: 7.8%...$85,000
Salt Lake City: 7.7%...$75,000
Boulder: 7.7%...$80,000
Austin: 7.3%...$77,000
Anchorage: 7.3%...$75,000
Minneapolis: 7%...$78,000
NEXT: Move 11: Enjoy generous return policies
Last updated April 28 2011: 11:32 AM ET
Source: PayScale.com, Bureau of Labor Statistics
Metro areas with populations of 200,000-plus. National unemployment rate as of March; metro unemployment rates as of January (latest available). Pay is median for college grads with at least 10 years of experience.