Looking for fresh ideas on how to make the most of your money? Our annual guide to the best and timeliest investments, deals, products and strategies will help you make smarter financial decisions. Guaranteed.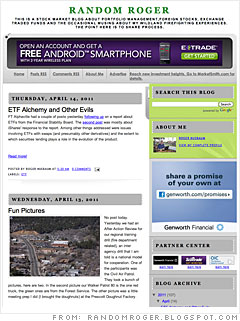 Lots of investment bloggers are little more than loudmouthed touts. Not these two.
Random Roger. Phoenix financial adviser Roger Nusbaum brings more than 20 years of experience to bear on a wide (and sometimes amusingly random) assortment of news analyses and musings --; covering everything from asset allocation and international investing to wild-land firefighting.
Oblivious Investor. Mike Piper, a former Edward Jones financial adviser, is all of 26 --; but he thinks like a man twice his age. You'll find clear items on low-cost funds, portfolio diversification, and saving for retirement.
NEXT: Move 95: Best new financial product
Last updated April 28 2011: 11:32 AM ET