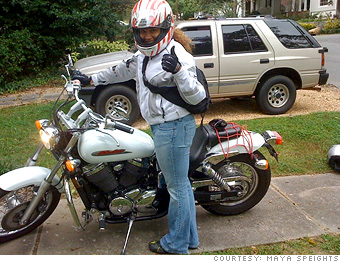 Rider since: October 2009
Model: 2007 Harley Davidson Springer
$ saved per month: $51.72
Hometown: Atlanta, Ga.
I have what is supposed to be a gas-sipping car -- a VW Hatchback -- but to fill that damn car is 50 bucks. So when gas prices skyrocketed two years ago, I started trying out my husband's motorcycle.
It took me a while to get used to it, but now that gas prices are this high, I ride it everywhere -- except in the snow. My VW gets 23 miles per gallon, but my bike gets 48 -- and it only costs $10 to $12 to fill up.
I ride it to work every day. My office is business casual, and I normally wear a dress. So before my ride, I slip on jeans underneath the dress and tuck the fabric into my motorcycle jacket so it doesn't blow everywhere.
Bad hair is the only thing that can be annoying. For a while, I even kept a "work wig" in my desk to put on when I got to the office so that my hair wasn't such a mess for work. But people got a little freaked out, so now I just put it in a braid. All in all, it's totally worth it.