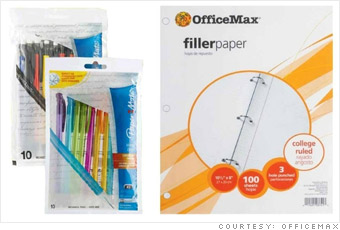 Ends Aug. 13
Some of OfficeMax's best back to school deals this year cost just a penny, quarter or dollar.
For 1 cent, you can stock up on 100-Sheets of OfficeMax-branded notebook paper. For a dime, you can buy a 10-pack of Paper Mate ballpoint pens. And for a quarter, you can get 2 and 4-pocket folders.
Other deals for a dollar or under include: Glue stick combo pack for 50 cents; 10-pack Paper Mate mechanical pencils for 75 cents; 5-pack Sharpie highlighters for $1.
Starting Aug. 14, OfficeMax will sell Schoolio notebooks for a penny each.