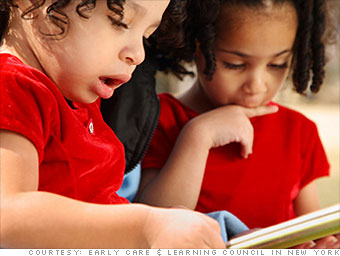 Avg. annual cost of child care: $13,650
Cost as a % of median income: 15.7%
There's more of everything in the Empire State, except space, and that keeps child-care costs high.
Programs in New York City, for example, must pay rents that are among the highest in the country.
And just like in Massachusetts, strict rules on the number of children per caretaker lead to higher overall costs.
"We really do have strong regulations and that's a challenge," said Marsha Basloe, executive director of Early Care & Learning Council in New York.
Still, many centers recognize the issue and are trying to make it easier for parents feeling the squeeze.
"Child care programs are doing what they can to keep it affordable with modified hours or flexible schedules for parents that cannot afford full time."