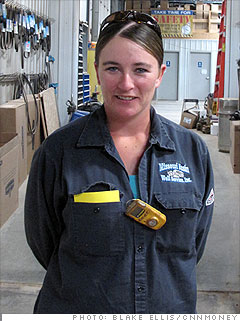 Occupation: Hydraulic fracturing equipment operator
Age: 26
I have a nine-year-old girl from a teen pregnancy when I was 16 years old, and I didn't want to be another teen mom on welfare. So I got my GED and found a job at telemarketing call center where I made $7 an hour.
My husband got a job driving trucks [in Belfield, N.D.], and he tried it for a month and then I came over. Here, I'm making about $55,000 a year. I'm out in the field telling people what to do, making sure well sites get the water they need and trucks go where they need to go.
I'm used to these kinds of jobs where you get nasty. Before starting here, I planted sagebrush, did water treatment and rebuilt frac pipes.
The spring and the fall are the worst -- when you get the mud. The heat in the summer and the snow in the winter aren't as bad as the mud. When you're in mud knee-deep, you have trucks stuck all over the place, you lose your muck boot that comes up to your knees and you have to crawl underneath a truck to try to get it unstuck and then you end up covered in head-to-toe mud, it's not easy.
Guys are guys. You will get the occasional proposal, and sometimes they're polite and sometimes they're lewd. You do have to earn their respect on the job and work as hard as them to prove yourself. You're not just a pretty face out there.
I wouldn't tell anyone not to give it a try if they're willing to give what it takes, but you're gonna get muddy, you're gonna break a nail. There's no place for high heels out here. It's not a fashion show. You look pretty goofy in a hard hat no matter how you do your hair.
And porta potties really suck ... that's probably the worst thing about being a girl in the field.