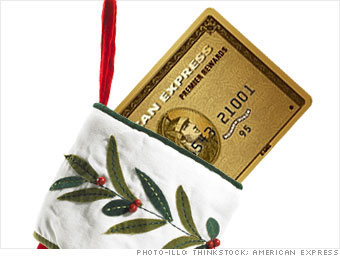 Recommended by: Bankrate
From Nov. 21 to Nov. 30 all American Express cardholders who use their membership rewards points to purchase gifts on Amex's reward site will get 20% off from retail partners like Banana Republic, Sony and Cuisinart.
On Nov. 26, a day Amex has declared "Small Business Saturday," cardholders can get a $25 statement credit by registering on the Small Business Saturday Facebook page and spending $25 at a qualifying small business with an Amex card.
Read the fine print:
Only card members with a ZYNC, green card, gold card, premier rewards gold card, platinum card or centurion card can take part in the 20% off offer and all of those cards come with an annual fee.
There are also only 200,000 small business credits available altogether so cardholders need to register soon to snag one of the few remaining, according to American Express spokeswoman Melanie Backs.