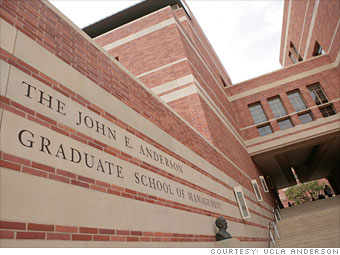 Index: 86.4
Tuition & Fees: $108,240
GMAT required?: Yes
Program length: 2 years
Anderson's executive MBA program emphasizes mastery of the fundamentals of business, proficiency in analytical problem-solving skills, and the development of an explicit point of view on what it means to lead.
Classes meet two weekends per month for two years. During the first session, students are assigned to groups based on their functional area. During the second year, students participate in a six-month field study program called the Strategic Management Research (SMR) program, which provides students with an opportunity to apply the tools they've learned in the real world.
Anderson's EMBA program also offers certification programs in entrepreneurship, international management, finance, marketing, and sustainability.
NEXT: Cornell - Johnson
Last updated March 01 2011: 10:19 AM ET