Wall Street is whipping up new index fund flavors, some of them kind of gross. But others let you create a custom portfolio at a super-low cost. Here's the challenges to indexing -- and how to solve them.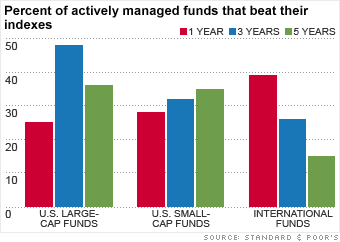 THE CHALLENGE:
You want the broadest exposure to the total stock and bond markets.
With so many offerings to choose from, even the simplest approach -- going with the most diversified index funds you can find -- has gotten tricky. That's because there are so many indexes and index funds that track big asset classes. But while academics might quibble over whether, say, a fund that tracks the Russell 3000 or the MSCI U.S. broad market index is a better bet, you don't have to. These total market indexes move in lockstep and are all appropriate core holdings.
THE SOLUTION: If you own the Vanguard Total Stock Market Fund, which mirrors the MSCI U.S. broad market index, don't toss it out simply because Vanguard introduced seven new ETFs that mirror Russell indexes.
But if you're starting from scratch, your best option may be Schwab Total Stock Market.
This MONEY 70 fund charges 0.09%, half the fees of VTSMX. Even better, the fund, which tracks the Dow Jones U.S. total stock market index, lets you invest as little as $100. Put 40% in that, 20% in Vanguard Total International Stock, and 40% in Vanguard Total Bond, and you'll create a balanced portfolio charging just 0.19% in annual expenses.
NEXT: Core and Explore
Last updated January 13 2011: 3:13 PM ET