Despite being four years after the housing bust, the foreclosure plague has continued to spread. Here's how the country's 10 biggest cities are faring.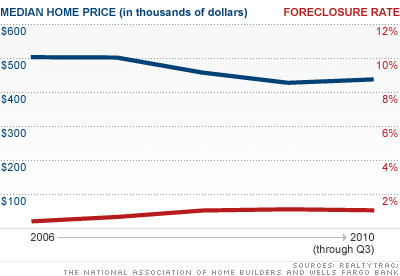 Median price: $435,000
Foreclosure rate: 1.08%
The New York area has the lowest foreclosure rate of any of the nation's 10 largest metro areas.
There three good reasons for that: Prices have always been high, and they have only fallen about 13%, according to the NAHB housing index; many area residents rent rather than own; and a large percentage of owners are either in condominiums or co-operative apartments.

Condo and, especially, co-op boards have authority over who gets to buy, and these boards have been very prudent in choosing their neighbors. They usually require buyers put at least 20% down, often more, before approving sales. That meant few buyers utilized dangerous loans to purchase homes.
NEXT: Los Angeles
Last updated January 27 2011: 6:31 PM ET