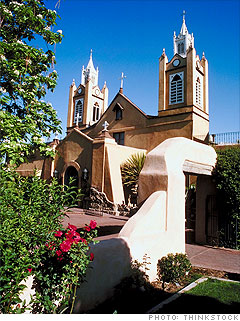 Population: 529,000
Foreclosure rate: One in 46 homes
Percent increase in 2010: 60.32%
One of the fastest growing metro areas in the nation, Albuquerque was one of the nation's fastest-growing metro areas over the past decade, drawing the young and retirees alike thanks to a warm climate and plethora of jobs, from tech positions in atomic energy and solar to manufacturing positions at the new Tempur-Pedic mattress plant.
The recession, however, applied the brakes to the area's economy and Albuquerque has been slow to recover. Unemployment is still on the upswing, rising to 8.6% in November from 7.8% a year earlier. Plus, the metro area lost 13% of its construction jobs last year, according to the Associated General Contractors of America.
Those layoffs have put many people behind on their mortgage payments. As a result, the metro area had the 67th highest foreclosure rate in 2010 among the 206 areas reported on by RealtyTrac.
NEXT: Myrtle Beach, S.C.
Last updated February 01 2011: 7:22 PM ET