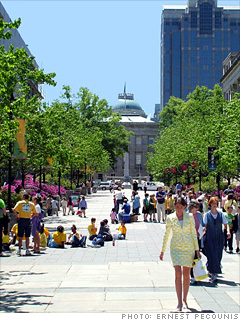 2010 population: 1,130,490
2000 population: 797,071
Growth: 41.8%
As one of the three points on North Carolina's "Research Triangle," Raleigh is one of the most prosperous of the "new South" cities. Area companies employ so many engineers, scientists and other educated workers that Raleigh boasts it has the fourth highest percentage of college graduates in the nation.

The area's economy is much more varied than many of the other fast-growing metro areas, with banking and financial services, medical and electronic production and food processing and pharmaceuticals contributing to its diversity.

Only 8.3% of its workforce was unemployed in January, lower than the 9% national average and down from 9.8% 12 months earlier. Even homebuilding has remained strong with a 16% growth in new permits last year.
NEXT: Cape Coral, Fla.
Last updated March 28 2011: 4:19 PM ET