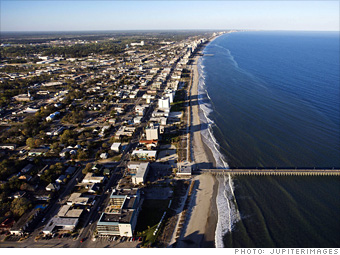 2010 population: 269,291
2000 population: 196,629
Growth: 37%
About 15 million visitors come to this area every year -- and many buy second homes. The failing economy and housing bust, however, sent home prices down more than 25% and put many owners in trouble.
Many of them stopped paying their mortgages, making the Myrtle Beach metro area one of the worst foreclosure hot spots in the country.

The tourist-based economy also took a iot and unemployment soared. That improved a bit over the past 12 months, coming down to 13.4% in January from 15.7% in January 2010 but that still a headwind and growth is sure to slow.
NEXT: Bend, Ore.
Last updated March 28 2011: 4:19 PM ET