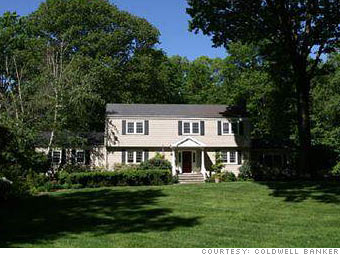 Average price in area: $1.030 million
This house: $1.19 million
Description: 4 beds, 2.5 baths; 2,840 square feet
Even though it's just an hour-long train ride from New York's Grand Central Station, this town on the Long Island Sound feels as if it's a million miles from the city.
"It's a quiet peaceful community with superb schools," said agent Darlene Letersky. Town residents have low-cost access to private beaches and to the local country club.
Home prices in the area softened during the recession, falling more than 30% from peak, according to data from Wells Fargo, but prime residential areas like Westport, with its reputable school system and recreational facilities, have fared well, according to Letersky.
The area has been home to many famous residents, like Paul Newman and Joanne Woodward (she still lives there) and Martha Stewart, as well as plenty of fictional ones, including Ricky and Lucy Ricardo (who moved to Westport from Manhattan when they bought a house).
This classic colonial sits on two landscaped acres in the north section of town. It has a family room with a cathedral ceiling and a candelabra chandelier, among other high-end amenities.
More information:
Coldwell Banker