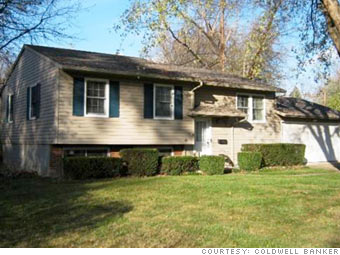 Average price in area: $97,971
This house: $99,900
Description: 4 beds, 2 baths; 2,009 square feet
Historically, the economy here has relied on manufacturing, thanks to natural gas fields that powered its factories. With most of that cheap power all used up and the automobile industry in decline, nearly all the big plants have vanished. But there are smaller tool-and-die and furnace makers where work has recently picked up. In April, the unemployment rate dropped to 8.6% from 11.2% a year earlier.
Muncie's
biggest employers are currently Ball State University and Ball Memorial Hospital, both named for the Ball Corporation, a one-time fruit-jar manufacturer in the area.
Families here tend to stay in their homes for generations. This home has had only one owner in its 49 years, according to agent Laura Henandez. She should know: She grew up playing with their kids.
More information:
Coldwell Banker