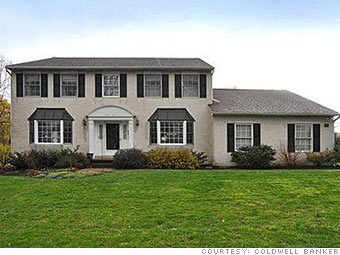 Average price in area: $430,269
This house: $467,000
Description: 4 beds, 2.5 baths; 2,525 square feet
Unemployment in the
Philadelphia
metro area has roughly mirrored the national average, at about 9%, and that has softened demand for homes in this leafy suburb located just north of the city.
Home prices in the area however, are still about 50% higher than the national average, according to Coldwell Banker's index.
This colonial home has a stucco exterior, a wood-burning fireplace and hardwood floors. It's on a big, half-acre lot with a large wooden deck that opens to the kitchen.
More information:
Coldwell Banker