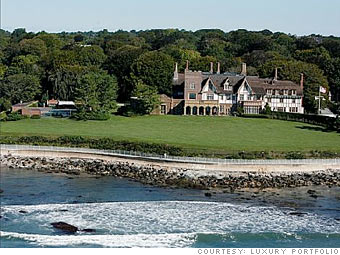 Few things say "I win" better than a house on the beach. If you made it to the point where you can afford a home on the water, well then it's pretty much assumed that you can afford to make it anywhere.
And, in these times of plunging home prices, where demand for vacation properties has diminished in lockstep with diminished discretionary income, the ultra-luxury end of the market seems to have defied the odds -- at least in the most in-demand locations.
In Miami Beach, for example, average prices for luxury homes have more than doubled year-over-year. The average sale price for a luxury, single-family home in South Beach climbed to nearly $4.4 million in the three months ended June 30, up from less than $1.7 million 12 months earlier, according to a report from real estate broker Douglas Elliman.
In the Hamptons, the summertime playground for New York's moneyed elite, luxury sale prices rose 26% year-over-year in the second quarter, compared with 19% for non-luxury homes, according to Douglas Elliman. The average price for a luxury home in the North and South Forks of the Hamptons is nearing $7 million. If it's on the water, there's an extra premium to pay on top of that.
But perhaps the most recession-proof of all seaside housing is the ultra-luxe market, the eight-figure houses that are not so much homes as monuments to hedonism. Many of these seaside manors made it through the housing market bust with values intact, and in many cases, enhanced.
In the market for some recession-proof beachfront real estate of your own? Here are six coastal properties that are all available for immediate sale. Just be prepared to pay up: All of these homes (or more like it, estates) have appreciated in value over recent years and are priced at $10 million or more. The homes are available through high-end brokers like
Luxury Portfolio
and
Sotheby's International Realty
.
To see one of these homes up close, watch
this video