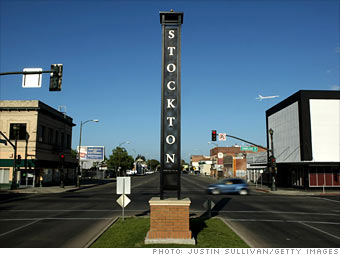 Average home price (2011): $157,100
Projected home price (2014): $150,000
Gross rent (2011): $821
Projected gross rent (2014): $915
Like Bakersfield, Calif.,
Stockton
is a Central Valley city where speculation pressure spilled over from more expensive coastal markets and drove local prices into a frenzy during the bubble.
That's long over and Stockton prices have declined a whopping 57% from peak, according to data from Local Market Monitor. That has made single-family homes affordable again for local residents but also attractive for investors.
Patience should pay off. Winzer said the economy in California is improving faster than in some bubble areas, such as Florida.
Rising rents, forecast to go up 11% over the next three years, should add to investor gains but buyers won't turn a profit on sales for many years. Home prices are expected to fall another 4% or so by 2014.