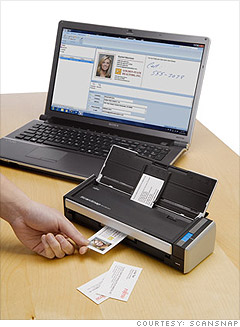 Resembling the portable scanners advertised in certain in-flight catalogs, the Fujitsu ScanSnap S1300 is portable and fast, for organizing business documents on the go.
Scan all but the smallest receipts for organizing business expenses, import business cards with automatic optical character recognition (OCR), or digitize important files before heading out on the road.
The diminutive device (at 11"x3"x3", smaller than a loaf of bread and three pounds) packs a powerful punch: with a built-in automatic document feeder that scans eight double-sided pages per minute to Word, JPG, or searchable PDF, you'll be running a paperless office before you know it.
Added cool feature: Use a highlighter pen on your real-life black-and-white document to mark important keywords. Once scanned, the software automatically recognizes those words as extra-important. An even smaller scanner, the S1100, weighs just 12 ounces, for business owners who're willing to trade a bit of speed for lightness.
NEXT: Fast Customer