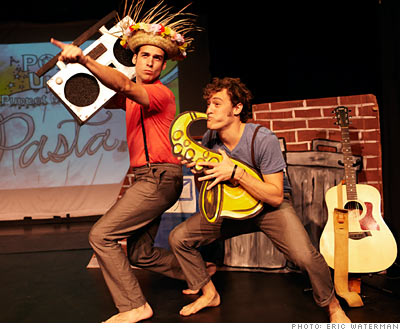 Jacob Stein (at left) and Jason Rabinowitz performing Pasta! in 2010.
The Pop Ups is a Brooklyn-based group, made up of Jacob Stein, a music teacher, and Jason Rabinowitz, the frontman for indie pop band the Bloodsugars.
Last year, the duo released their first kids' album, Outside Voices, filled with tracks influenced by '80s music, indie pop, classic soul, and club-ready beats.
The album was well-received by parents, Rabinowitz and Stein said.
Indeed. It later inspired Pasta! A Pop Ups Puppet Musical, where Stein and Rabinowitz sing, dance and use large-scale puppets.
Before The Pop Ups, Rabinowitz had some success with the Bloodsugars.
But he also had to teach music to supplement his income. In 2009, he and Stein tried their hand at kids music. Outside Voices was the result.
So far, the future looks bright for the band. The duo is working on a second album, a music video and touring across the country.
"The business is going better than we could have ever expected," said Stein.
NEXT: Jeremy Plays Guitar
Last updated April 21 2011: 1:37 PM ET