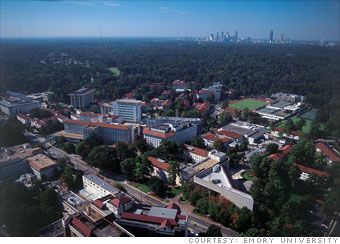 Rank: 1
Startup Rate: 510 per 100,000 adults*
Georgia ties with Nevada for No. 1, thanks to large numbers of young innovators who stayed or flocked to the business-friendly Peach State.
Each year, Georgia Tech, the University of Georgia, Emory University and other schools produce droves of entrepreneurial-minded graduates. Other bright minds come from Harvard University's Business School, which has one of its largest alumni chapters in Atlanta, said Charles Hofer, professor of entrepreneurship at Kennesaw State University in Georgia.
Georgia's universities do a good job supporting its students and professors in their new ventures, said Hofer. The state's universities offer courses on entrepreneurship, have business incubators, and help students connect with investors and successful business owners, he said.
A modest cost of doing business, aggressive laws that protect entrepreneurs and a robust venture capital community also have helped create a vibrant startup community, Hofer said.
NEXT: California