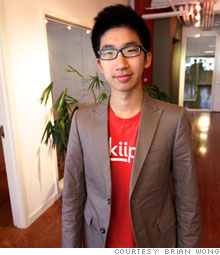 Company: Kiip
Age: 20
Website: kiip.me
Two years ago, while traveling on long flights, Brian Wong noticed that many of his fellow airline passengers were casual mobile gamers, tapping away on their smartphones for hours at a time.
Shortly after, the former Digg employee began researching the market and devised a plan for a new gamer rewards platform.

Within a year of his 'aha' moment, he was able to raise over $4 million in venture capital for his company, Kiip.
''I've always had the entrepreneurial itch, but what got me the most excited was the opportunity to truly reinvent a space,'' said Wong.
Less than two months old, Kiip is a mobile rewards network that offers gamers real rewards for virtual achievements, such as winning a coupon for a can of soda after getting a new high score or completing a difficult level.

With access to more than 15 million active mobile gamers and clients, such as Dr. Pepper and Sephora, behind him, the San Fransisco entrepreneur hopes to become the leader in ''moment-based advertising.''
His words of wisdom to other young business minds: ''You are the most powerful force in your own life, don't let others set the rules for you.''