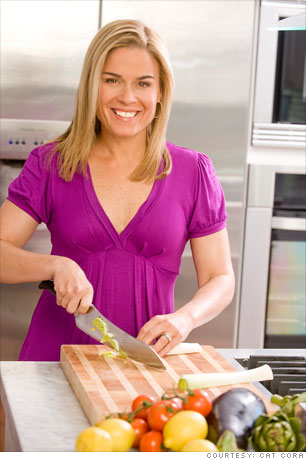 Most people know Cat Cora as the only female Iron Chef. But they don't realize her culinary expertise also extends to the business world.

As the head of a multimillion-dollar media, restaurant and merchandising empire, Cora launched a new line of eco-friendly cookware and kitchen utensils this year done in conjunction with Canadian manufacturer, Starfrit.
She also launched a line of all-natural, preservative-free Greek olive oils, spices and tapenades with Greek specialty food manufacturer GAEA.
She has opened three new restaurants in the past several years, including Kouzzina at Disneyworld in Orlando, CCQ' (Cat Cora's Que) with Macy's in Costa Mesa and her first airport restaurant in San Francisco's new Terminal 2. Six more of those will open around the country in the next year.
The mother of four boys also has a project in the works slated to launch this fall with the new Oprah Winfrey Network (OWN). Other accomplishments: She has authored three bestselling cookbooks and a children's book. Cora is also the founder of Chefs for Humanity, a non-profit organization dedicated to fighting hunger.
Her collective businesses have a valuation of more than $40 million.
"I'm just a girl from Mississippi who had to fight hard for her dreams,'' said Cora, 44, "So I feel very lucky to have the success I'm experiencing in my career."