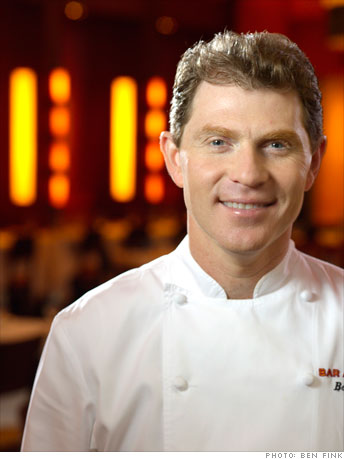 Bobby Flay has 11 cookbooks and 11 restaurants, including Mesa Grill, Bar Americain and Bobby's Burger Palace.
Next February, the 46-year-old chef and entrepreneur plans to expand his Bobby Flay Collection of housewares, kitchen utensils and cookware, launched with Kohl's Department Stores in 2008.
With numerous television shows to his credit, Flay premiered ''America's Next Great Restaurant'' on NBC, and is launching ''Bobby Flay's Barbecue Addiction,'' this summer on the Food Network. His 11th cookbook hits bookstores this fall.
Flay who began his culinary career after dropping out of high school, continues to take a hands-on role in the kitchen.
''I'm in my restaurants constantly,'' said Flay. ''I get a lot of people saying, 'I can't believe you're here.' They don't realize that this is the place I want to be the most.''