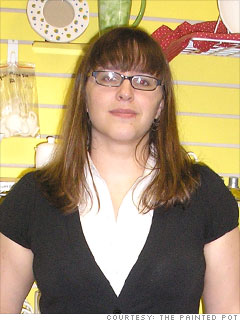 Company: The Painted Pot
Headquarters: Helena, Mont.
Brianne Harrington and her father, Neil, go running together a few times a week. ''He keeps me emotionally sane,'' said Brianne. ''He is my rock.''
Brianne's dad also helps out when it comes to running The Painted Pot, a studio where customers can paint their own pottery and fuse glass.
Brianne, 32, and her mother opened The Painted Pot in 2006. Brianne's mother, Kathleen, had the idea for the business, but ''I am the one that works the majority of the hours,'' said Brianne.
Her parents provided startup capital, and later more funding to keep the business running through the recession.
Brianne's father also helped his daughter out when the store moved to a new space.
''He helped us paint the new location, install baseboards, helped with the flooring, moving all the equipment and the furniture, he built me shelving.'' she said.
"Without the knowledge he gave me, we would have had a tougher time with this,'' Brianne said.