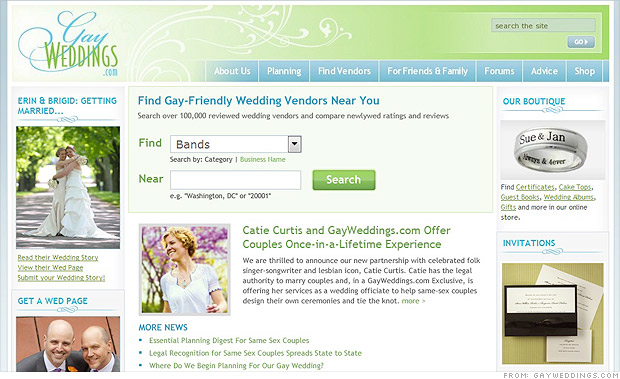 Headquarters : Arlington,Va.
In 1999, Gretchen Hamm discovered that she was having a hard time tracking down gay-themed wedding items for her daughter's civil union. Instead of getting mad, Gretchen, who is straight, got entrepreneurial.
She launched twobrides.com and twogrooms.com in 2000. Later in 2005, she and her daughter Kathyrn expanded the company by acquiring gayweddings.com.
Today, gayweddings.com, which helps couples nationwide, offers an online boutique, specializing in same-sex themed wedding products, including wedding cake toppers, albums and invitations. It also offers an extensive gay- and lesbian-friendly vendors directory, as well as how-to articles on how to plan a gay or lesbian wedding.
''We were pioneers,'' said Kathyrn, who is president of the company. "I remember when we were the only ones in the market.''
Kathryn said the passing of gay marriage legislation in New York is a ''win-win'' situation for many people.
''We are thrilled about this milestone in New York," she said. ''Given the size and scope of the New York market, we fully expect that the market will expand, and we look forward to being a part of the continued growth.''