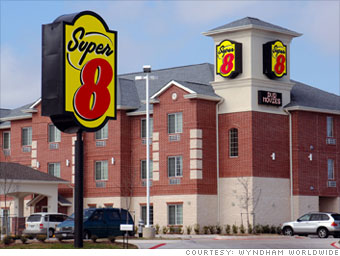 Loan failure rate: 4.6%
Number of loans: 87
Number of failed loans: 4
This motel got its name from the room rate it charged when it first opened in 1974: $8.88 a night.

From the start, the motel has aimed to be affordable for travelers.
Cendant Corp., Wyndham Worldwide's predecessor, bought the Super 8 franchise in 1993. Throughout North America and China, there are 2,185 properties with 137,260 rooms.
The motel's 8-point Promise includes complimentary high-speed Internet access and a continental breakfast. Some of the bigger franchises offer a business facility, a fitness center or a swimming pool.
Only four of the 87 SBA-backed loans failed between 2005 and 2010.
To convert a hotel into a Super 8 costs between $145,670 and $1.2 million. Building a brand new one ranges between $2.5 million to $3.5 million.