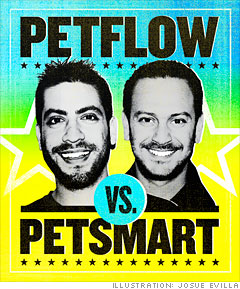 The challenge: Can a web startup take on brick-and-mortar pet food retailers?
What they did: Serial entrepreneurs Alex Zhardanovsky and Joe Speiser tapped their web marketing expertise to create what they call the "Netflix of pet food." Using $5 million from a stake in a previous startup, they launched PetFlow in New York City in late 2009. Their model: regular delivery of a variety of pet food -- including natural, hard-to-find brands like Blue Buffalo and Fromm -- for a flat $4.95 shipping rate for orders up to $59; above that shipping is free.

To maintain steady revenues, they focus on food rather than one-time purchases like pet toys. Today PetFlow converts about 50% of new customers to auto-shipping deals (mostly women tired of lugging heavy bags from stores). PetFlow says monthly revenue hit almost $1 million in April, up 85% since January.