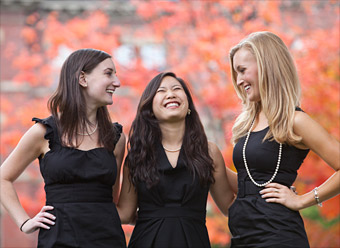 Started: 2009
Founders: Windsor Hangar, Stephanie Kaplan, and Annie Wang
School: Harvard
Hercampus co-founder Windsor Hanger says she had no idea her career website for women would expand so rapidly in just two years. She and partners Stephanie Kaplan and Annie Wang now oversee more than 1,700 branch managers who all contribute to a site with 250,000 unique visitors every month.
Hercampus was created as a platform to help college women gain real work experience while sharing their stories. At first it was local to Harvard (like another website started by a kid named Mark Zuckerberg), but as of last year, it had over 130 branches across the country with 100 more expected by the beginning of next school year.
Hercampus' founders hope to add additional platforms for college students to promote their work. They also want to establish more relationships with other businesses to help market their products to a purely college-aged audience.