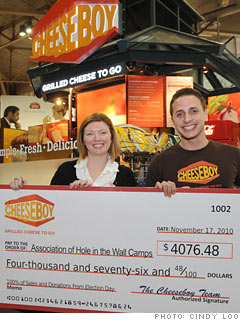 Company : Cheeseboy
Age: 30
Website: cheeseboy.com
Michael Inwald has a real thing for cheese. This isn't a casual relationship. His friends even nicknamed him ''Cheeseboy.''
A serial entrepreneur, who started businesses in media and marketing, Inwald used a Yale MBA program to springboard into his next venture, which is near and dear to his heart, and stomach -- grilled cheese.
Inwald makes notoriously good grilled cheese, but a survey done during business planning told him that more could be done with his favorite snack. There was an open market for the affordable, healthy, quick, comfort food.
In 2009, he used $20,000 to test his idea at country fairs, and his success drew the interest of private investors. Now, Cheeseboy is more than a nickname, but a fast-stop restaurant headquartered in Boston, with three locations and seven more planned this year.
Cheeseboy provides more than a tasty sandwich. The company runs grand-opening fundraisers at each store, donating over $10,000 to date to camps for chronically ill children.