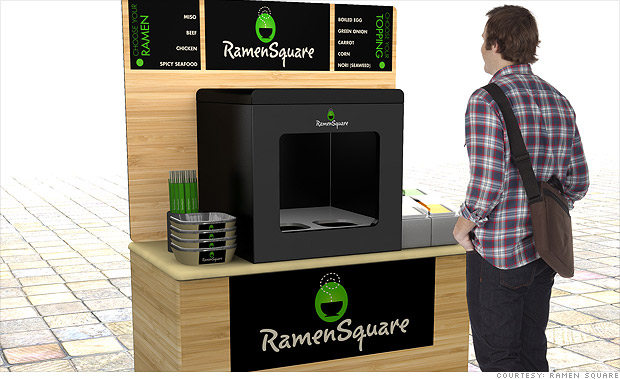 The Ramen Noodle station -- or Ramen Square -- promises fast noodles in three minutes flat.
The station was invented by Leonard Kang, a University of Chicago MBA grad. Kang thought of the idea just nine months ago when he was under the gun to come up with a compelling new business concept for his "New Venture Challenge" class at school.
He went to Korea to meet with manufacturers to find a Ramen noodle machine and found a self-service one. He brought it back to the United States.
"The idea was to have a free-standing Ramen Noodle machine that people can use themselves," he said. Kang is now in the midst of raising venture capital to commercialize the noodle vending station and place it in college campuses nationwide.
"We're testing it first in the Chicago market," he said. The endgame for him is to eventually roll out the idea as a franchise. "Being acquired by a large company wouldn't be a bad idea either," he said.