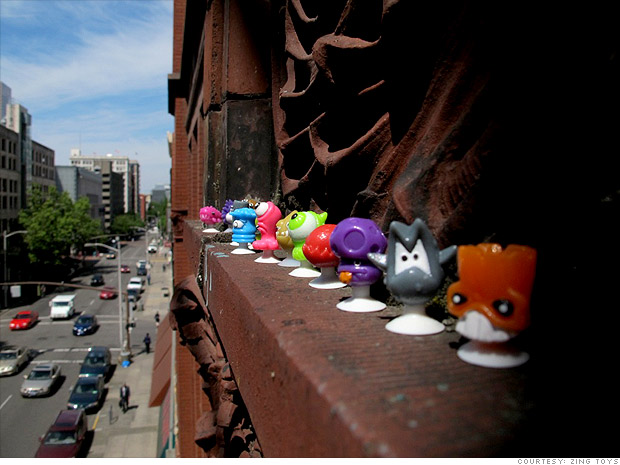 Company: Zing Toys
Location: Portland, Ore.
Price: $1.25 for single pack; $2.99 for a triple pack
Age: 4 and up
Zing Toys may have the cute answer to popping bubble wrap.
Ickee Stikeez, tiny, squishy, collectible monster figures, have tiny suction cups for feet. Kids can stick them anywhere, or keep them in their round plastic pods.
The best part, though, is the popping noise that they make when pulled off of a surface. They also appeal to kids' tendency to collect items. But parents don't have to dole out lots of money either. Each of the 24 characters costs just $1.25.
"Our goal was to make a cool, fun and innovative product that was high on play value but very low on the cost," said Josh Loerzel, executive with five-year-old Zing Toys, a small Portland toymaker with 30 employees. "We believe in making toys that are built on imagination, don't require any battery and kids can play with anywhere."
Loerzel said there's also a functional value to Ickee Stikeez that grownups might appreciate. "If you're at a party and you don't want your glass mixed up, just stick a distinctive Ickee Stikeez on it," he said.
Loerzel said the company is taking the same creative approach it adopts to make toys to also build buzz about them. "We're a small business and we're supporting small business," he said. "So we launched Ickee Stikeez last month through 5,000 independent gift and toy stores." Zing Toys is also shunning expensive TV ads and going viral, instead.
"If we go to lunch, we leave Ickee Stikeez on the table or on the check. Funny thing is, when we go back, we find them there on the cash registers," said Loerzel.