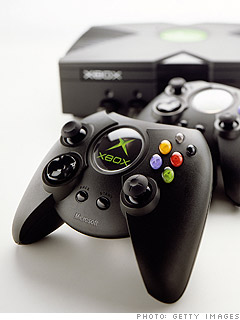 The 2001 CES brought the first version of Microsoft's popular Xbox gaming console.
Bill Gates unveiled the highly anticipated Xbox, Microsoft's first video game console, in a keynote speech at the 2001 CES. The sleek black box included an Ethernet port, a built-in 8GB hard drive and the capability to play movie DVDs.
Professional wrestling star The Rock joined Gates on stage for the announcement of WWF's "Raw is War" Xbox game. The unlikely pair bantered for a few minutes in front of the audience.
"To the untrained eye, it just might appear that The Rock and Bill Gates don't have a heck of a lot in common," The Rock quipped. "That can't be further from the truth. Both The Rock and Bill Gates stand on top of their industry. And both The Rock and Bill Gates are bestselling authors."
The Xbox was released a few months later to long lines and waiting lists. Some of the platform's games that have become legendary, including the Halo series, various NFL titles and Dead or Alive. In 2002, Microsoft launched its Xbox Live online gaming service.
The next generation of the console came in 2005 with the launch of Xbox 360. But the original Xbox is still beloved, and video game sites including IGN have named it one of the top consoles ever launched.
NEXT: 2003: Blu-ray Disc
Last updated January 04 2011: 11:17 AM ET