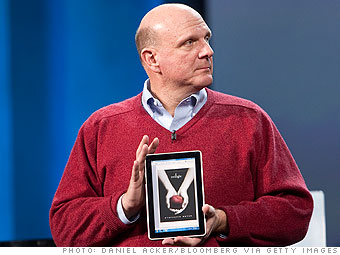 Tablets were the talk of CES 2010, with several companies showing off devices they promised would launch soon. Microsoft CEO Steve Ballmer even waved around a prototype during his keynote.
But the tablet that stole 2010 was Apple's iPad -- which was nowhere on the CES scene. (Apple traditionally skips the show.) Released in April, the iPad was an immediate game-charger for the tablet field. All those gizmos touted at CES? Delayed, changed or scrapped altogether.
Lenovo's "IdeaPad U1 Hybrid" prototype, unveiled at CES 2010, was a detachable screen that could be popped into a case with a keyboard. It was slated to run on a custom Linux-based Skylight operating system, but months later Lenovo killed the project and said it would completely start over with Android.
The Dell Streak came out in August, but with a five-inch touchscreen it's more like an oversized smartphone than a true tablet. The Samsung Galaxy Tab, which runs on Android, is available from all four major carriers -- but it lacks the iPad's sizzle. Research in Motion's tablet, the PlayBook, won't be available until early 2011.
Tablets will once again be in the spotlight at CES 2011, with companies including Palm (now part of Hewlett-Packard) and Toshiba rumored to be unveiling their own devices. Let's see if this time around, they get it right.
More galleries
Last updated January 04 2011: 11:17 AM ET