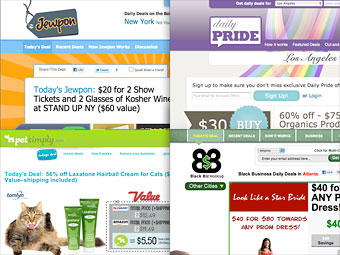 Gaggle of Chicks
This web site's management, made up of moms, pops, aunts and uncles, caters to products and services largely referred by moms for moms.
Jewpon
The South Florida-based company launched last November and highlights deals on kosher events, restaurants, hotels, fashion, and other products and services.
Daily Pride
Offers up deals from gay, lesbian, bisexual, and transgender-friendly businesses in 11 U.S. cities.
Gluten Free Deals
Save big on gluten-free food products.
PetSimply
Pet supplies for pets. Enough said.
More galleries
Last updated March 17 2011: 2:57 PM ET