Corporate America has been trying to embrace social media, but companies don't always get it right. These six big names got tangled in public snafus.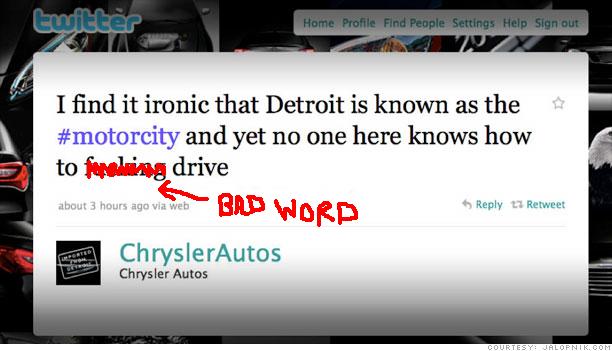 Big Auto is the industrial core of Motor City, and post-bankruptcy Chrysler showed its hometown pride with a splashy Super Bowl ad called "Imported from Detroit."
But the warm and fuzzy feelings iced over fast after an errant tweet last month from Chrysler's Twitter account: "I find it ironic that Detroit is known as the #motorcity and yet no one here knows how to f---ng drive." Except, you know, with the full f-word.
Scores of incensed Twitter users retweeted the post, which was quickly deleted. Chrysler quickly sent out a mea culpa tweet: "Our apologies - our account was compromised earlier today. We are taking steps to resolve it."
Chrysler later said on its blog that the "inappropriate comment" had been posted by an employee at New Media Strategies, its social media agency. Chrysler did not name the employee, but said the person had been "terminated." Separately, the automaker announced that it would not renew its contract with NMS.
The fired NMS employee, Scott Bartosiewicz, outed himself by giving an interview to a local ABC affiliate. Bartosiewicz blamed a bug in third-party Twitter app TweetDeck.
Here's the twist: Mere weeks later, Bartosiewicz landed a new social media job -- with another automaker. He'll now oversee a blog and social media accounts for the Ford-sponsored Arts, Beats and Eats festival.
NEXT: Nestle's Facebook page gets oily
Last updated April 07 2011: 9:33 AM ET