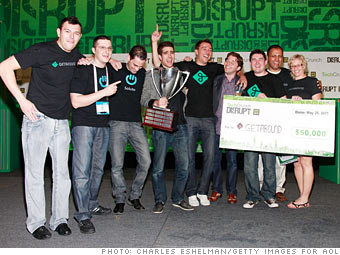 GetAround.com
Founders: Sam Zaid, Jessica Scorpio, Elliot Kroo
Headquarters: San Francisco
Founded: 2009
At last week's TechCrunch Disrupt, car sharing service GetAround took home the $50,000 top prize. The service lets car owners share cars without sharing keys: It wowed judges with a technology that allows users to unlock rented vehicles with their iPhones.
The company's wild idea: Peer-to-peer car sharing, with hourly, daily, or weekly rentals. Imagine Zipcar -- but with a fleet made up of individual peoples' cars.
"250 million cars in America are parked 22 hours a day," co-founder Sam Zaid told TechCrunch Disrupt's audience. He touts the system as the solution to a laundry list of transportation woes: traffic jams, pollution, parking-space hogging.
But there's one glaring weak point in the model: Who is going to rent their car to a random stranger? The crew encourages "peer-to-peer" rentals with friends, co-workers, and neighbors. As an extra safety precaution, GetAround inked a partnership with Berkshire Hathaway for insurance on every rental, covering liability, collision, theft and damages.
GetAround has raised an undisclosed seed round from General Catalyst Partners and a host of angel investors. To date, some 240 car owners and 1,500 renters are using the service in the San Francisco Bay Area. Another 1,600 people have signed on to test-drive the service when it goes nationwide.