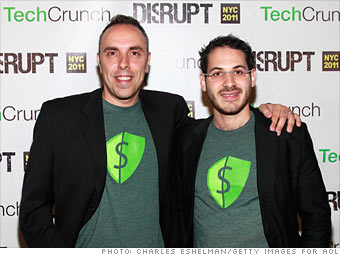 BillGuard.com
Founders: Yaron Samid, Raphael Ouzan
Headquarters: New York
Founded: 2010
BillGuard, which took second place in Disrupt's judging, wants to crowdsource financial fraud and error detection.
In a typical year, "the average American will lose over $300 to things we simply miss," said co-founder Yaron Samid , citing hidden charges, billing errors, and scams.
When users register their cards with BillGuard, the service runs daily tests using data from all of its members. BillGuard will alert you if there's a suspicious charge, or of someone flags on their bill a charge that's also showing up on yours.
To date, around 10,000 cards have been registered, and Samid says BillGuard found a suspicious charge on 20% of the cards it has checked.
BillGuard wants to position itself has the world's first anti-virus program for bills. Investors were impressed. The crew has already raised $4 million in funding from well-known financiers such as Chris Dixon, Ron Conway, and IA Ventures.
Users can sign up their first credit card for free, but adding more cards requires signing up for the $4-per-month premium version.