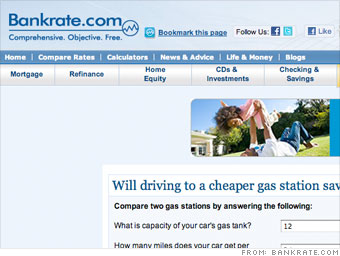 Available on: Web
Of course, finding a cheaper per-rate gallon isn't worth much if a motorist is forced to drive miles out of the way to gas up.
Financial services publisher Bankrate offers a simple calculator on its site that determines whether it's worth it. Simply plug in your car's gas tank capacity and the miles it gets per gallon. Then, type in how many miles you'll have to drive to your primary gas station and how much gas costs there.
Plug in the same info for the cheaper station, and voila! Bankrate calculates your net savings for traveling to the lower-cost option. Sometimes filling up on the cheap isn't such a good deal after all.
NEXT: Carticipate
Last updated May 04 2011: 5:32 AM ET