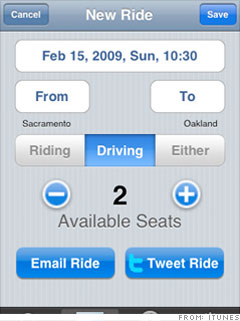 Available on: iPhone, Facebook
Pinching pennies per gallon sometimes doesn't add up to much, but a good old-fashioned carpool is a quick way to cut gas bills. Carticipate leverages your social network to arrange ridesharing.
The free app for the iPhone and Facebook matches users with people in their network. Users simply post where they're driving and when -- and the app links them up with local "carticipants" who are going the same way. Users can save locations, plan future trips and simultaneously coordinate multiple trips.
NEXT: GasHog
Last updated May 04 2011: 5:32 AM ET