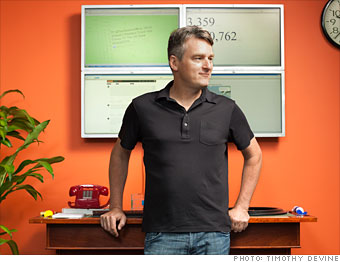 Revenue: $ 171 million
Headquarters: Norwalk, Conn.
Industry: Travel website
Founded: 2004
Employees: 130
Online travel search is a viciously competitive business. Kayak.com, which goes up against Expedia and Travelocity, has thrived by creating a hip brand and offering accurate search results. "Lots of companies do what we do," says Kayak CTO and co-founder Paul English (right). "Users gravitate to Kayak for subtle reasons -- how we paint and organize the page, which hotels we show you first." The potential rewards are huge, considering that online travel represents 40% of all e-commerce. Kayak's sales last year grew by 51% over 2009, and it now provides the No. 1 free travel app in Apple's App Store. The bad news: Google recently entered the space by acquiring travel software company ITA. "If Google builds a great travel site, it will definitely impact Kayak," says Opus Research analyst Greg Sterling, an expert on the search industry. Kayak will indeed need to paddle hard to keep ahead of the Internet giant, but English seems unperturbed: "There's always room for innovation."
--R.M.M.