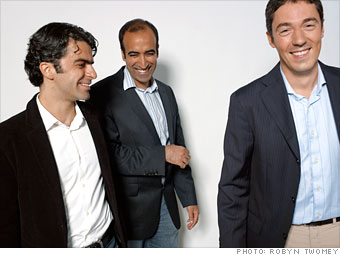 Contest winner clever sense scores with a digital "BFF"
If you're lucky, you have a friend who knows all the hot restaurants in town -- and also knows you're allergic to shellfish and like Southern food. If you're not that lucky, there's Alfred, an app that learns tastes and preferences and recommends venues for dining out.
At first pass, Alfred, from a startup called Clever Sense, may sound like a raft of other recommendation apps out there, but the technology that powers it delivers results specifically for you (in less than a second), and has the potential to help you discover much more than your next meal. Indeed, Clever Sense's vast prospects helped it earn the most votes in Brainstorm Tech's Startup Idol competition for companies raising money.
Clever Sense co-founders Babak Pahlavan and Nima Asgharbeygi met in 2008 when both were studying data mining and artificial intelligence at Stanford. After two years of research and development, they set to work building Clever Sense in 2010, and hired Norberto Guimaraes as head of product along the way.
Like Amazon or Netflix, Alfred can show you like-minded customers' preferences. And as with other mobile apps, it can figure out where you are and allows you to filter by price or cuisine. But the real secret sauce is an engine that constantly crawls the web gathering, organizing, and updating information on places in the way that human beings actually talk about them. The system then creates a graph that connects those places based on similar attributes. "Our system understands that the word 'badass' is actually being used in a positive context," Pahlavan, 28, explains. The more feedback you provide, the smarter Alfred gets, recognizing patterns in your preferences and then matching them to its interest graph to come up with suggestions.
After a couple of weeks in Apple's app store, Alfred has ranked among the iPhone's top 20 free lifestyle apps. And it is just Clever Sense's first product; the technology could someday help you discover TV shows or vacation destinations. But while Alfred is a good substitute for a friend who knows all the hot spots, Clever Sense hasn't figured out a way to make it a good conversationalist. Until then, you'd best keep cultivating human friends.
--Jessica Shambora