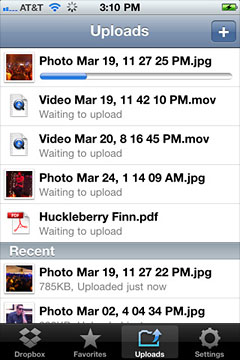 Cloud: Dropbox
Co-founded by Drew Houston in 2007, Dropbox lets users store digital files in an electronic locker the owner can access or share on nearly any Internet-connected device. Its strength lies in its simplicity. Users can interact with their uploaded files via the Dropbox app or website as if they were in any regular computer folder, view photos in Gallery format and share them with non-users.
Since last January, the service has exploded from 4 million to 25 million users. Now, some 200 million files are saved on the service daily -- despite the fact that Dropbox has spent zero on advertising. As Houston told Fortune earlier this year, it's all thanks to word of mouth. Some 30% of new sign-ups now come via its user referral program, where users get an additional 250 MB free for each successful referral. Another 20% are due to its easy file-sharing features -- that proselytize the service when files are passed around. And despite Dropbox's focus on consumers, it counts hundreds of thousands of businesses among its customers now, including United Airlines, Red Bull and Tishman Construction, the construction manager for One World Trade Center in New York City.
Up next? Another rumored round of funding between $200 million and $300 million at a $5 billion-plus valuation.