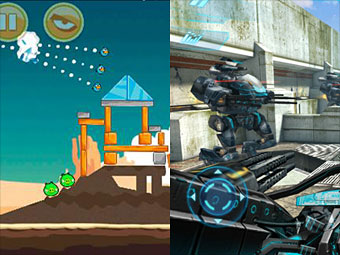 Gaming: TIE
Gameloft
As Gameloft proves, the recipe to success on mobile platforms isn't originality so much as rapid development and competent execution. Since spinning off from video game maker Ubisoft in 1999, the company and its nearly 4,800 employees has become a veritable hit factory with games some critics might call copycats: N.O.V.A. could be mistaken for Microsoft's Halo and Eternal Legacy bears a striking resemblance to the Final Fantasy franchise made by Squaresoft. But all this probably means little when compared with the bottom line. Last year, Gameloft reported 150 million game downloads with revenues of $198 million.
Rovio
Who knew flinging cartoon birds across a 4-inch screen could be so lucrative? Since launching as an iPhone app in December 2009, Angry Birds has exploded into a gaming empire. There have been 350 million Angry Birds downloads since the game's launch in December 2009, 150 million more downloads than when Fortune checked in on Rovio last June and more than triple the number of downloads reported last March. Merchandise is moving along at a remarkable clip too. A themed cookbook sold out in the company's native country of Finland -- it's coming stateside in the next few weeks -- and Rovio is selling one million stuffed toys and another million t-shirts a month.
Indeed, things couldn't be better for Rovio right now, which has rolled out Angry Birds out to numerous platforms including iOS, Android, Nook and Google's Chrome Web Store. It also has at least two new games in the works for release by year's end. Also on tap: an Angry Birds movie that will likely be developed in-house thanks to the acquisition of Helsinki-based animation studio Kombo.